With the mechanical glue applicator MS 200.E you can process hot melt adhesives in shape of granules, pillows or 43mm sticks. The electronic temperature protects your glue and ensures the best glue result.
Questions about the Applicator?
You have questions about the product, want to get a quote or place an order?
Description
Hot-Melt Glue ApplicatorGun MS 200.E – Easy Processing of Hot-Melt without compressed air.
The MS 200.E lets you process hot-melt granulates, pillows and even 43mm sticks effortlessly and hassle-free. It doesn't even require air pressure and thanks to the 500 watt heater it is ready to go within minutes. The comfort locking and big opening lets you fill the 250 ml tank with ease.
Thanks to the electronic temperature regulation the hot glue is kept at a precise temperature and protected against coking. This makes the MS 200.E a great tool for temperature sensitive hot-melts like PA, polyamide based glues. The adjustable temperature range is 30 to 200 degrees celsius, this enables you to apply materials with an especially low melting point like wax.
The MS 200.E is well suited to work in dusty and demanding work environments. The ergonomic handle and adjustable trigger enable a continuous workflow and is well-suited for smaller hands as well as right and left-handed people alike. The integrated magnetic foot lets you pick the applicator up and put it down in the blink of an eye and is a real time saver. A wire stand makes sure the device can also be placed securely on non-magnetic surfaces.
Combined with the reka nozzle portfolio the MS 200.E handles countless applications comfortably, powerful and professional.
Videos
Here you can find videos about the product.
Data sheet
| | |
| --- | --- |
| Weight applicator | 1220 g |
| Power connection | 230 V (50 Hz), 2,2 A / 120 V (60 Hz), 4,2 A |
| power consumption | 500 Watt |
| Protection class | I, IP 30 |
| Temperature control, display | Electronic, none |
| Temperature limitation | Temperature monitor |
| Operating temperature | 30 – 200 °C |
| Temperature constancy | ± 2 °C |
| Heat-up time | ca. 5 min. |
| Gross capacity | 250 ml |
| Conveyor system | Mechanics |
| Length of electrical connection | 2,5 m |
| Recommended melting goods | Granulate, pillows and 43mm sticks |
Accessories
Here the suitable accessories
Downloads
List of documents to download concerning this product.
Inquiry
You have a challenge for us? We solve gluing problems!
Questions about the Applicator?
You have questions about the product, want to get a quote or place an order?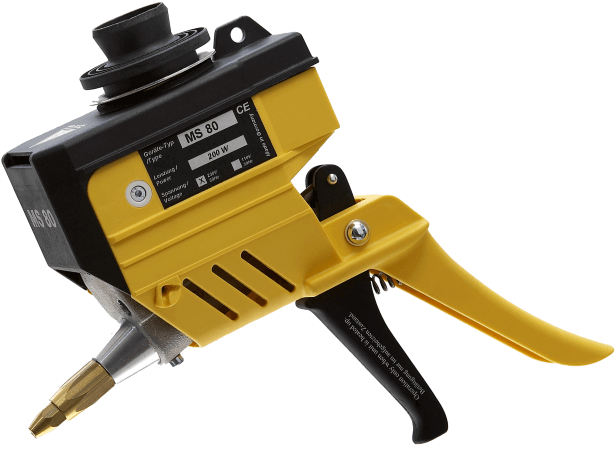 Mechanical - without compressed air
Granules and pillows
Thermostat adjustable 50-200 °C
150ml capacity (gross)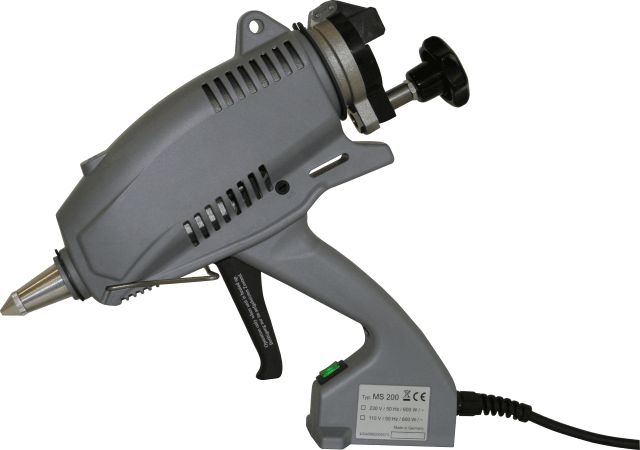 Mechanical - without compressed air
Granules, pillows & 43mm sticks
Thermostat adjustable 50-200 °C
250ml capacity (gross)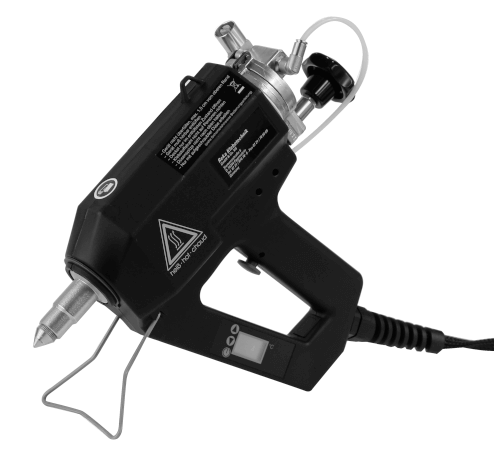 Pneumatic dot / line application
Granules, pillows & 43mm sticks
Elecronic adjustable 170-190 °C
250ml capacity (gross)