With the MS 200.LCD, you can process hotmelt adhesives in all common shapes of 43 mm sticks, granules and pillows. For this purpose, the MS 200.LCD only requires a power connection and is ready for gluing in just a few minutes thanks to its powerful heating system. Thanks to the electronic temperature control, it processes hot-melt very gently and keeps it exactly at temperature.
Questions about the Applicator?
Do you have questions about this product, would you like a quote or do you want to order right away?
Description
The new MS 200.LCD hotmelt gun with digital temperature display and precise temperature control
With the MS 200.LCD all kinds of regular hot-melt can be worked with: Granulates, pillows and 43 mm sticks/slugs.You only need a power supply and because of the powerful heater the applicator is ready to glue within minutes. Thanks to the electronic temperature control it processes your hot-melt the temperature is kept precisely and temperature stress is kept to an absolute minimum. The integrated temperature display makes setting, temporary lowering or increasing of the application temperature an absolute breeze. The applicator is turned on and switched off with a rocker switch. This glue gun for professionals is made for demanding applications and everyone with the goal the get the best gluing results possible. The temperature range is 30 – 205 °C (85 – 405 °F) and can be set in one-degree increments and held accurately.
That's why the MS 200.LCD is perfect for material with a particular low melting point like wax or temperature-sensitive hot-melts like polyamide. Improvements like the comfort locking and the anti-clog lid make the MS 200.LCD fully equipped to handle even dusty and rough working environments. The magnet foot of the MS 200-series helps putting the glue gun down and picking it back up again and is a real time-saver. A 3,5-meter cable (11,5 ft) provides a wide operating range. With accessories like the extensive nozzle range or the new stand for storing the MS 200.LCD will fit your application.
Videos
Here you can find videos about the product.
Data Sheet
| | |
| --- | --- |
| Weight applicator | 1220 g |
| Power connection | 230 V (50 Hz), 2,2 A / 120 V (60 Hz), 4,2 A |
| Power consumption | 500 Watt |
| Protection class | I, IP 30 |
| Temperature control, display | Electronic, digital display (LCD) |
| Temperature limitation | Temperature monitor |
| Operating temperature | 30 – 200 °C |
| Temperature constancy | ± 2 °C |
| Heat-up time | ca. 5 min. |
| Gross capacity | 250 ml |
| Conveyor system | Mechanics |
| Length of electrical connection | 3,5 m |
| Recommended melting goods | Granulate, pillows and 43mm sticks |
Accessories
Here the suitable accessories
Downloads
List of documents to download concerning this product.
Nozzles for TR55 LCD + TR50 + MS200
Inquiry
You have a challenge for us? We solve bonding problems!
Questions about the Applicator?
You have questions about the product, want to know prices or would like to order from us?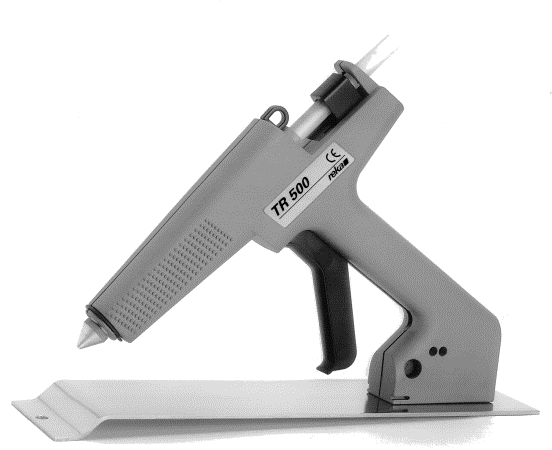 Ultra Lightweight and slim
Detachable cable & magnetic base
Ready for operation in 2 minutes
100-205 °C adjustable